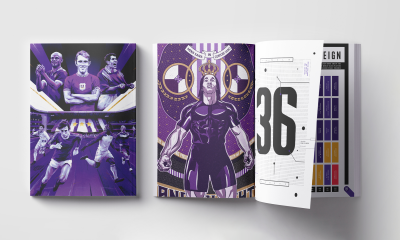 RSC Anderlecht and the British magazine These Football Times teamed up to make a classy magazine about the past and present about Royal Sporting Club Anderlecht. The result is a 150-page-long work of art that you can order in our Fanshop. The RSC Anderlecht magazine is These Football Time's latest issue, following earlier work on (amongst others) Ajax, Barcelona, Real Madrid, Borussia Dortmund, AS Roma, PSV Eindhoven, Celtic Glasgow and Liverpool.
The magazine dives in Sporting's history and explores its European haydays. It does so with a mix of articles, interviews, photograpy and the unique artwork that charachterizes These Football Times' style. The issue covers the careers of Paul Van Himst and Robbie Rensenbrink, but also the Danish Dynamite, Romelu Lukaku, Youri Tielemans and many others. Our current coach, Vincent Kompany, also gave an exclusive interview about his love for RSC Anderlecht.
It's a timeless piece and a true must-have for every Sporting fan. The collector's item can now be pre-ordered in the Fanshop.