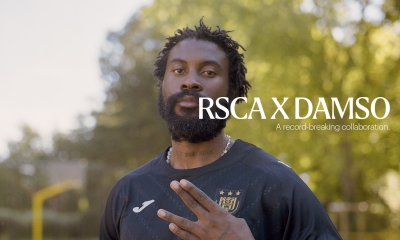 Black with a golden touch. A celebration of Brussels and its talent, from artists to athletes. A collaboration between Belgium's biggest club and its biggest artist. Resulting in a unique, European shirt that will go down in history as the best selling shirt ever for RSC Anderlecht, with 15.000 shirts sold.
The collaboration between RSCA and DAMSO was based on our shared ambition to push talented youth forward. Brussels is the capital of football, sports, gastronomy, culture, music, fashion and much more. The X at the heart of the dark and golden shirt design refers to BXL and to a uniquely diverse and talented city.
The DAMSO-shirt by JOMA further expands the world of RSCA within and beyond football. Having released four platinum awarded success albums and accumulating hundreds of millions of streams, Damso is an icon of today's Belgian music scene and one of its most acclaimed ambassadors. The Brussels based rapper is an immensely popular source of inspiration for a young generation of diverse cultures in Brussels, Belgium and far beyond.
The shirt was an instant hit. Over 15.000 fans bought a shirt in the club's fan shop or during Damso's international concert tour. Making it the best-selling shirt in the club's history.
The very last shirts are now available in the fanshop or via shop.rsca.be. On Thursday, Sporting will wear it with pride in the return leg of the UEFA Conference League round of 16 against Villarreal CF.