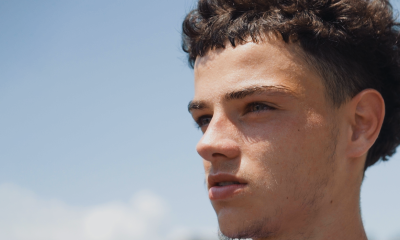 Can you introduce yourself to our fans?
Monticelli: "I've been playing for RSC Anderlecht for four years, since I was fourteen. I feel most comfortable as a number 10, but I can also play as a striker or as a winger. My qualities? I read the game well, I always try to play forward and like to score goals."

Baouf: "I am Ismaël Baouf, 16 years old, central defender and I have been playing at RSC Anderlecht for one year now. I prefer to play as a central defender, but I have also played as a right back. I anticipate well and I like to play between the lines." 

Degreef: "I've been playing at RSC Anderlecht since the U9, so I was formed pretty much entirely at Neerpede. This is already my tenth season with Anderlecht. Since last season, I play mainly as a winger and I really like that. I can create threats, I'm good at passing and I always try to keep the overview."
Who is your favorite player at RSC Anderlecht?
Monticelli: "I often watched Jan Vertonghen on TV when he played at Tottenham or with the national team. Jan is a real role model, as is Zeno Debast. Majeed Ashimeru is also a great player. Honestly, it's a dream come true to play with all the players from the first team, because they are all good players who are comfortable on the ball and read the game well."
Baouf: "There are many players in our squad that I look up to. Jan Vertonghen is a real star., Zeno Debast is someone from the new generation that I admire."
Degreef: "I especially look up to Francis Amuzu. His speed and dribbels are fun for all the supporters and his team mates to watch. In terms of former players, I also liked Dennis Praet a lot."
You get to join the first team for the first time on summer camp. How does that make you feel?
Monticelli: "I'm just so happy. I am going to give it my all in the coming days. I am sure I will learn a lot. It's just a very good step for me and my career. Of course it makes me long for more experiences like this in the future. I'm going to do my best to enjoy it as much as possible and to develop further."

Baouf:

"I am very proud that the club believes in me. I know I will gain a lot of experience from the older players. The atmosphere in the group is very good. The other players have all welcomed us very well."

Degreef:

"The atmosphere is good. We laugh a lot. Everyone makes us feel welcome as new players. We have been training with them for three to four weeks now, so our self-confidence is also growing by the day. It's nice to get the chance to go to summer camp with the first team. The coach and players may already know me a bit from last season with the Futures, but I have to take every chance I get. So I want to show myself this pre-season."
You all recently renewed your contracts or signed your first contract with the club. Was it an easy choice?
Monticelli:

"I didn't hesitate for a moment to sign. RSC Anderlecht is the biggest club in Belgium. I am happy to be here and to defend the colors of this club. I therefore want to stay here as long as possible."

Baouf: "Absolutely. I really wanted to stay longer so I can still learn a lot here."
Degreef: "I definitely knew I wanted to stay here. I'm still young and see that, as a young player, you get opportunities here. The coming season, I can continue my my development with the RSCA Futures. The last game of the season with the Futures, against RWDM, was a first highlight in my career. I was part of the starting line-up in a full stadium for the first time. That experience was fun and I would like to live it more often."
Wat is je ultieme droom?
Monticelli: "First of all, I want to show myself with the Futures team. We play in the Belgium's second division, so I can still learn a lot there. Then, of course, I want to advance to the first team. My dream club abroad? I have been a fan of AS Roma since I was a child, but also Fiorentina, Lazio ... are beautiful clubs. I have a preference for Italian clubs, given my roots."

Baouf:

"My dream is to play with the first team in the Belgian Jupiler Pro League. I'm really looking forward to making my debut at RSC Anderlecht one day, that's all I'm thinking about at the moment."

Degreef: "I first want to become an important player in the first team of RSC Anderlecht. After that, I dream of the Premier League. I have been a Manchester United supporter since I was little. My father was also a supporter and I have always taken that preference with me."