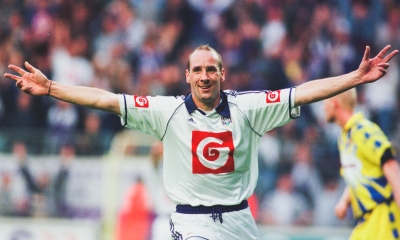 A purple and white legend blows out 50 candles today. We look back on a short but powerful passage, full of victories.
Jan Koller was big. Not only in height (2m02), but also in the steep growth curve his achievements were on. He started playing football in his birthplace Smetanova Lhota before going on to play five years for modest ZUV Milevsko. There he was recruited by Czech giant Sparta Prague. But there Lange Jan's technical qualities were not appreciated. After just one year, he was sold to Lokeren where he completely blossomed. Koller scored 46 goals in 102 games there. With 27 goals in his third season at Daknam, he convinced RSCA to pay a record fee of 120 million Frank for the Czech striker.
After four years without a title, the new transfer together with Tomasz Radzinski - then already at Sporting - had to ensure new successes for the Mauves. Under new coach Aimé Antheunis, RSCA suffered their first defeat only on the 14th matchday. It finished the season alone at the top with 75 points, eight points more than vice-champion Club Brugge. In the following year, during the 2000-2001 season, the legendary duo Koller - Radzinski became champion again for RSC Anderlecht, although it was mainly that year's Champions League campaign that still fires the imagination today.
With four of the five goals, Jan Koller took Sporting through the qualification rounds quasi single-handedly, with opponents Famagousta and especially Porto. In the group stage, Sporting faced European giant Manchester United, PSV Eindhoven and Dynamo Kiev. And although RSCA suffered two big defeats away  (5-1 at Old Trafford and 4-0 in Kiev), it was still Sporting that ended the group stage as group winners to everyone's surprise. A historic win at home against the Red Devils (2-1) and in Eindhoven (2-3) helped ensure a stunning 12 out of 18. The Champions League adventure would end in the second group stage of the tournament as it was played at the time. There it faced Lazio Roma, Real Madrid and Leeds United, opponents that Jan and co couldn't set aside.
After two titles in two seasons, a Golden Boot and 64 goals and 102 games, Koller and RSCA's paths parted already. The lure of the Bundesliga was too great, Borussia Dortmund would become the new home of our tree-length striker. He later moved on to Monaco, Nuremberg, Samara and Cannes, where he would take his tally of professional goals to 245 in 585 matches. With 55 goals in 91 duels, he is to this day Czech top marksman.
Happy 50th birthday, Jan!