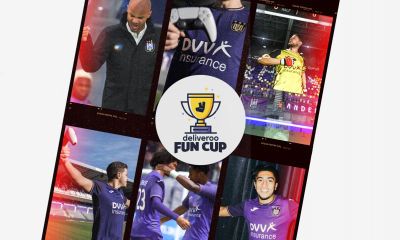 RSC Anderlecht and Deliveroo present the Deliveroo Fun Cup. What is the Deliveroo Fun Cup? A tournament with four qualifying rounds and an IRL final round at Lotto Park on Saturday 25 June. The two best players of each qualifying phase will face four players of RSCA's first team and four Brussels' personalities in our stadium.
There will be many prizes to win: 5 FIFA 22 games with a personalized RSCA cover, an RSCA jersey signed by the whole team, Deliveroo credits, vouchers for the RSCA fanshop, etc.
Timings 
Important: register for one of the qualifyings rounds before 06/05! 
Saturday 07/05: round 1 of the qualifyings

Wednesday 11/05: round 2 of the qualifyings

Saturday 21/05: round 3 of the qualifyings

Wednesday 25/05: round 4 of the qualifyings
The tournament will be played on FIFA22 on PlayStation 4 or PlayStation 5. More information about the players and personalities invited to the finals will follow in the coming weeks.