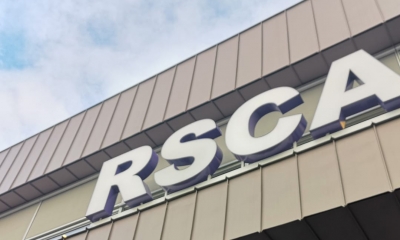 RSCA and Lithuania Football Association have signed a three-year partnership. RSCA will support the Lithuania FA's ambitions to develop future talent of a higher calibre, by enhancing their academy practices. Both parties have the intention to extend the partnership further subject to mutual satisfaction.
The Lithuanian National team is currently ranked #132 in the FIFA rankings but have been as high as #37 over 10 years ago.  The Federation is currently recalibrating internally to target future participation at major international tournaments, by refreshing their head & youth national coaching staff members as well as now engaging with RSCA to structurally improve their grassroot programs.
RSCA's 'In Youth We Trust' consultancy program is aimed at helping clubs, federations & academies around the world with their youth development. The club leverages its knowledge & experience in producing talented players who feature for top European clubs as well as the Belgium National team. This is achieved through a specifically developed in-house coaching philosophy as well as professionalizing club operations through specific data management software.
The RSCA coaching team will be led by Academy Director Jean Kindermans, supported by various staff members. Together they will instil the RSCA youth development philosophy into the Lithuania academies by working closely with their academy coaches.
Tomas Danilevičius, Head of Lithuania FA: "We are happy to start this cooperation with one of the most successful football academies in the world. Needless to say, this partnership marks a first significant turning point in Lithuania's youth football development. We put trust in RSCA proposition that, we believe, can vastly enhance the workflow of Lithuanian football academies, improve our coaching level and, most importantly, provide means to bring up top quality Lithuanian football players. As the implementation of RSCA youth development philosophy will be overseen by experienced specialists from RSCA and managed by Academy Director Jean Kindermans , we are extremely excited to follow positive steps of improving a currently complex situation of Lithuania's youth football".
Aaron Kanwar, Head of RSCA International: "It is an honour for RSCA to partner with a national federation such as Lithuania and for them to trust the future of their talents in our hands. From the start we have felt a great fit with the LFA in terms of objectives, potential and values. We will ensure that this project is handled with the care & attention that we demonstrate daily with our own academy. Anderlecht's youth academy remains the heart & soul of the club and is a major asset to form collaborations when starting our international journey."