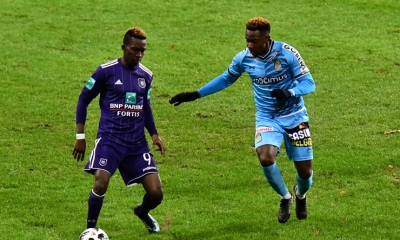 RSC Anderlecht received Sporting Charleroi, second on the league table, on the eighteenth matchday of the Jupiler Pro League. Coach Hein Vanhaezebrouck changed the team that beat Celtic: Matz Sels was in goal, Olivier Deschacht replaced the injured Kara. The Purple & White were not able to do over the nice achievement in Scotland, and took a heavy blow against the Carolos. At the final whistle, a 1-3 score appeared on the board in favour of the visitors.   
The Purple & White started the match eagerly and saw Obradovic' header on the first corner of the match going long. After fifteen minutes of play, however, Charleroi took the lead. Kaveh Rezaei was fouled in the box after contact with Deschacht, the Iranian striker scored the penalty. RSCA reacted via Hanni and Onyekuru, but Penneteau made the save both times. After some thirty minutes of play, Vanhaezebrouck replaced the injured Adrien Trebel by Lukasz Teodorczyk. Five minutes later on, Olivier Deschacht fouled Benavente and was booked for the second time, as a result of which the Purple & White were reduced to ten players. Benavente and Tainmont were dangerous for the visitors, but the score at half-time remained 0-1.

RSCA tried to fight their way back into the game, but did not manage to upset the iron organisation of Charleroi. After sixty minutes, the Purple & White took the second goal against. Sven Kums tried to get rid of a long ball heading towards Rezaei, but was unfortunate in putting the ball past Sels. The reaction was one by substitute Massimo Bruno, whose shot went across the goal. Anderlecht even fell behind 0-3 fifteen minutes before the end, with a goal by Cristian Benavente. After 82 minutes, Henry Onyekuru scored in reply, the Nigerian took advantage of Dessoleil being absent. In a tumultuous end of the game, two more red cards were shown. Substitute Amara Baby received two yellow cards during two minutes of play and was sent off the field, on the other side, Teodorczyk was also shown the red card when referee Visser judged that the Pole fell in the box purposely. There were no more goals. As a result, Sporting Charleroi, for now, has won the battle for second place. They currently have four points on the Purple & White.
Goals : 15' Rezaei (0-1), 60' Kums (own-goal, 0-2), 75' Benavente (0-3) & Onyekuru (1-3) 
RSCA: Matz Sels, Dennis Appiah, Olivier Deschacht, Uros Spajic, Ivan Obradovic (61' Massimo Bruno), Sven Kums, Leander Dendoncker, Pieter Gerkens (46' Josué Sá), Adrien Trebel, Sofiane Hanni & Henry Onyekuru.