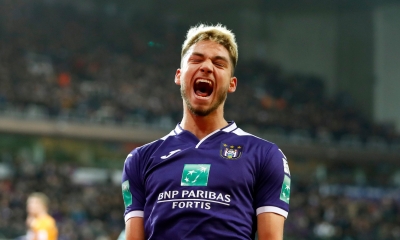 Season Tickets on sale now!
It's the first time that new season ticket buyers can book a seat in the Lotto Park in a priority-period. Do so before 30/06 and get a nice discount of 20%!
We still are the biggest club in the country. And together we'll make RSC Anderlecht the best club in our league again. Together we make our future as glorious as our past. And for that we need you now, more than ever.
We want to welcome you in our stadium next season. And we're willing to go the extra mile for it. You can choose your seats for next season amongst the already available seats. If you buy your season card before the 30th of June you'll receive a 20% discount.
In case some matches have to be played behind closed doors next season (due to force majeure like e.g. Covid-19), RSC Anderlecht will refund each and every one of them.
Click here to see the pricetable.
Pricetable for new season ticket buyers
 

20% DISCOUNT
From 20/05 until 30/06

10% DISCOUNT
From 01/07 until 12/07

REGULAR PRICE
From 13/07

CAT 1

 €       530

 €       595

 €       660

CAT 2

 €       490

 €       555

 €       615

CAT 3

 €       460

 €       515

 €       575

CAT 4

 €       405

 €       455

 €       505

CAT 5

 €       335

 €       375

 €       420

CAT 6

 €       205

 €       225

 €       255

18-26

 €       265

 €       295

 €       330

-18 SEAT

 €       200

 €       225

 €       250

-18 STANDINGS

 €       140

 €       155

 €       175

BLIND/WHEELCHAIR

 €       140

 €       155

 €       175
What if some games have to be played behind closed doors next season due to force majeure?
In case some matches have to be played behind closed doors next season or if certain matches are annuled (due to force majeure like e.g. Covid-19), RSC Anderlecht will reimburse each and every one of them.
What games are included in my season ticket card next season?
Your season ticket card allows you to attend all home games in the Jupiler Pro League 2020 - 2021 (Play-Offs are also included). You also get free admission to the games of our RSCA Women, our Under 21 and our RSCA Youth.
Games of the Croky Cup are not included, but as a season ticket card holder you're in the front row to get tickets for the Belgian League Cup/Croky Cup.

The Jupiler Pro League 2020-2021 will be played with 16 teams in a formula with a regular competition and play-offs.
The League starts the 7th of August. The regular competition ends after 30 games, mid-April. The top 4-teams will play the 'Champions Play-offs' for the title and the European tickets. The teams ranked between 5 and 8 will compete for the last European ticket, probably in a play-off final with number 4 of the League.
How can I pay my season ticket card?
RSC Anderlecht provides various payment options:
Online
Via bank transfer: please follow the steps on top of your screen when you've reached the payment screen.
At the counter (from 28/05):
Starting this week, you can buy your season card at our ticket office.
Location: Theo Verbeecklaan 2, 1070 Anderlecht.
Opening hours: click here.
At the ticket office it's possible to pay with:
Cash
Bancontact
Sports and culture vouchers
Bank Transfer form
Do you prefer to pay via a classic bank transfer form? That's possible. 
Get in touch with our ticketingofficers, they will help you through that procedure. Send an e-mail to [email protected] or call +32 2 529 40 67.
Your season ticket card will be registered as soon as your payment is on the account.
Once the season ticket cards have been created, it will be sent to the address mentioned on the bank transfer.
I WANT TO RENEW MY SEASON CARD, BUT THE CRISIS HAS MADE IT FINANCIALLY CHALLENGING FOR ME
Do you have any payment problems or do you want to spread your payment?
Please contact our ticketing service by mail [email protected] or call +32 2 529 40 67.
Those who have financial difficulties and can't afford it to pay the full amount in one go, can do so in two payments.
A first amount of 50% has to be paid when applying for the season ticket card, a second payment of 50% should be on our account before the end of the priority period.
PLEASE NOTE: The sale is binding.
If the second payment has not been done by the due date, your first instalment will be charged as a cost and is therefore non-refundable. Your place will then be available for sale again.
How and when will I get my season ticket card?
You will receive your season ticket card by post by mid-July.
Did you pay by a bank transfer, then the season ticket card will be sent to the address mentioned on the transfer form. 
Can I share my season ticket card with someone else?
No. Your season ticket card is strictly personal.
If you can't attend a game, you can resell your seat for that game on our 2nd hand market and get a part of your money back.
I am a fan with a disability
Our partner Besix constructed a wheelchair-stand and we also have facilities for blind and visually impaired fans.
Interested and want to join us next season? Send us an e-mail at [email protected].
You'll be on a reservation-list. Our ticketingofficers will contact you as soon as we have a place available.
To get a season ticket card on these stands a social security certificate is mandatory. 
Get a 10% discount in our official fanshop throughout the season, even on our official teamwear.
CAT 1
W2
W15
W18
E2
E5
E6
E13
E14
CAT 4
W11
W12
E17
E18
E8
E9
N5
N6
N11
N12
N13
N14
N15
N16
N17
S11
S12
S13